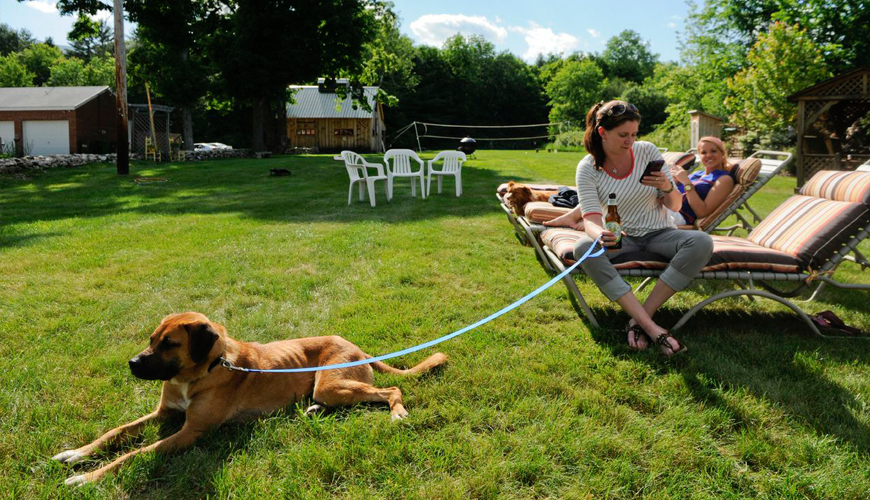 Well behaved pets are welcomed in select cabins. Our pet policies reflect our respect for your pet as well as for the non-pet owners who stay with us. Dogs of all sizes and breeds are welcome.  Sorry but we do not accept cats in our rooms.
All pet policies will be strictly enforced. We do reserve the right to ask that noisy, messy or misbehaving pets (or their owners) be removed from the premises without notice or refund.
Because pets are allowed in a limited number of rooms, please let us know your pet will be traveling with you when you make your reservation. Please note we do not offer Pet friendly lodging on our Booking.com site. Guests must call to make a reservation with us if traveling with a pet.
A few guidelines…
For the safety of your pet and all of our guests, pets must be on a leash at all times while outdoors.
Please, do not allow your pet on the bedding. We will provide a blanket to be used to cover our bedding should your pet be accustomed to getting onto beds.
Additional fees will be assessed for dirty or damaged bedding or furniture (including towels and carpeting).
Please do not use our towels or linens to clean off your pets. Ask us for a pet towel that can be used instead.
Please clean up after your pet both inside the cabin (spilled food) and on the grounds (if you need baggies, please let us know). We have provided a receptacle for dog waste.
Any damage caused by your pet will be the responsibility of the person traveling with the pet and additional fees may be assessed if deemed necessary.
We proudly feature Vermont Made Organic Dog Treats by Wagatha's available for sale in our office.
Any pets in room not registered at time of booking will be charged $100 per pet.
We have front row seats to the Town of Manchester Fireworks as well as VSO Fireworks- due to the loud noises we do request all animals are removed from our cabins and under their owner's supervision during fireworks events.  We know they'll appreciate being safe and with you .
Traveling with a pet?
Call or email to book your reservation. We do not accept reservations with pets from booking.com